Restore the function of your tooth without compromising beauty.
Repair your cracked, broken, or fractured tooth.
A crown, or "cap," is generally required when a significant portion of a tooth has been destroyed by decay, trauma, or excessive wear. Crowns can also be used for cosmetic purposes to improve your tooth's color, size, and shape.
Our dental crowns have been specifically designed to protect your damaged tooth while restoring its function. They are also used to top dental implants or to create a dental bridge. Unsightly, old-style, porcelain/metal crowns have been replaced with today's all-porcelain crowns, which look nearly identical to natural teeth. Plus, they have the added advantage of being strong and very durable.
Our innovative Aberdeen Dentists use modern technology to create your custom-made crowns. They take precise impressions of your tooth and work with our partner lab to create breathtaking crowns. Our results are therefore more accurate and long-lasting, enabling you to resume your normal habits and smile with confidence.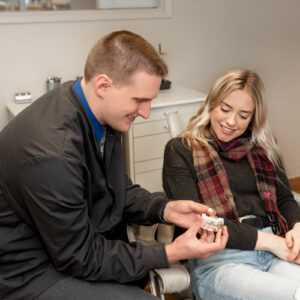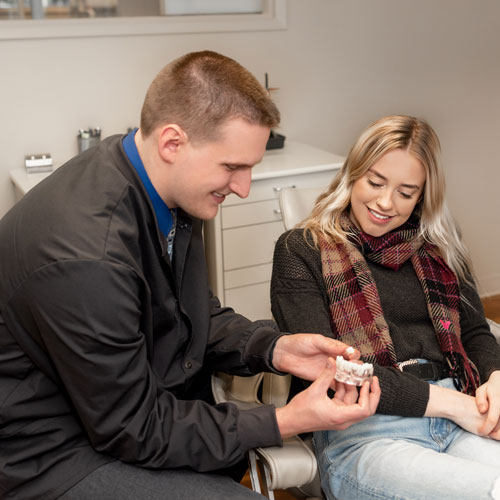 Discover how our innovative dentists in Aberdeen can restore your tooth's function and beauty.
Our caring dentists first assess your tooth and identify if you are a candidate for a dental crown. If so, we take a few impressions of your teeth and review the crown procedure with you .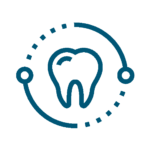 During the design phase, our expert team applies the specifications of your crown's size, shape, color, and fit. This information is then passed onto our dental lab, which produces the finished crown. At this stage, you may be asked to wear a temporary crown so your tooth is protected.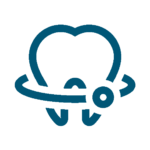 While at the lab, your new crown is constructed using state-of-the-art technology by a team who produces outstanding restorations. Once complete, the finished crown is returned to our practice where your dentist will assess the fit and style.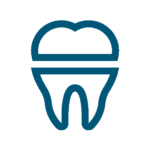 When happy with the crown, your dentist will prepare the natural teeth and place the crown. If further adjustments are needed, these are made before the crown is bonded into place. We strive to give you the best fit possible so you can enjoy the look and function of a natural smile.
Brenda is an actual gem. She didn't hesitate to be empathetic and kind when I had some bad news delivered. I wish I could Bottle her up and spread her kindness all over the world. Thank you so much for being kind to me ❤️

Jenna Marie
23:44 14 Mar 23
I've been a patient of Dr Mark Tomlinson's since 2003. He was great—he took his staff on vacation every year—great guy. He retired a few years ago.No problems with Dr Wood. Busy place, now with another dentist and an army of dental hygienists. I called with a toothache three days before leaving on a trip—they could get me an appointment in two weeks. pffttt! I left town—a dentist in Vegas, whose office I called yesterday, evaluated and fixed my toothache today. Nice! Would I rather be in Phoenix? Yep, Phoenix is warmer in November.Maybe Nogales or Tucson next year.

I lost part of a filling while flossing the first night of our vacation. I started calling dentists within 100 miles the next day, and fortunately, Olympic called me back the next day to fill a cancelled appointment. Dr. Alaina and her staff were absolutely superb in every aspect of being professional. (I've gotta tell you -- I hate dentists. All of them!!) If I lived anywhere close to Aberdeen, I'd be using Olympic as my family dentist. Many thanks to Olympic for saving my vacation. Even though I'm from Alabama, I highly recommend them to you if you're within reasonable driving distance.

RALPH RHYE
21:31 26 Sep 22
Dr. Parker Wood and his staff are OUTSTANDING!! They have taken excellent care of me, bringing my dental health back after not having been to a dentist in 8+years.They take the time to diagnose and explain problems, and to lay out a treatment plan.They are kind and caring. Excellent aseptic procedure. Organized and prepared. Clean and comfortable.J. Guindon, R.N. BSN

Greg Guindon
19:29 15 Aug 22
I recently had two teeth extracted by Dr. Wood and he made me feel at ease during the entire process. Everyone I had contact with on this visit was knowledgeable and friendly. I can honestly say I'm looking forward to my next visit.

Tara McDougall
22:18 23 May 22
The staff is efficient and friendly, Dr. Wood and his wife, Mary are quite a team. They make you feel comfortable with a family feeling.yet totally professional for my dental needs.

Phenomenal doctor and staff. They take the time to make sure you're comfortable and that you understand every single step along the way. Very flexible, thorough and very understanding. Absolutely amazing with children too!

Kayla Bosarge
19:41 08 Mar 22
Everyone is really nice and friendly. No pain when cleaning teeth. They gave me ibuprofen for my TMJ because I forgot to take some beforehand. Better than any other places I've been.

Professionalism and smiles is the name of the day at the dentist. Always a pleasure and a good experience.

Rollo Hartstrom
21:18 26 Oct 21
Great place! Everyone is friendly, fast and efficient. I would recommend 10-10

Every single person in that office was nothing but smiles and kind words. Dr Woods made sure to explain every option available, what it would look like, time frames, even what my insurance might cover. I feel they went above and beyond. Made me feel extremely comfortable and sooo easy to talk to! Even the receptionist took time to print out different quotes and break down the information, very consoling and make you feel welcome. Highly recommend!

Kimberly C
15:55 13 Oct 21
I couldn't have had a better dental experience (and that's with an extraction). Highly competent staff and Dr Woods is everything you want in making a visit to the dentist agreeable. Thank you all.

shirjack44
20:51 05 Oct 21
Today I had 6 teeth removed and a partial put in and the entire staff was beyond amazing and cared about my anxiety. Thank you to everyone who made my visit pleasant.

Anna Rouska
22:03 08 Sep 21
New to town Dr Wood and his staff are excellent, gentle and caring. Highly recommend.

Karen Huff
23:06 09 Aug 21
Had to have a molar extracted & was very nervous. Dr. Wood was so very patient with me explaining exactly what I would feel, kept asking me if I was okay during the process. It was painless & quite fast. He is the dentist you want to see about your teeth! Excellent staff also!!

Lorraine Rivas
18:09 16 May 21
Had a personal dental emergency and ended up going here based on others reviews (and the fact they could get me in) I am extremely glad I did, instantly relieved. Olympic family dental has some of the friendliest people I've encountered in one office, the doc was thorough, quick and honest (quick being a high priority for myself) I would highly recommend Olympic family dental services to anyone.

Justin .Eastman
04:00 31 Mar 21
Amazing staff. I went here for the first time after I hadn't been to a dentist in years. They took great care of me and answered all my silly questions. They treated me like family. They explained everything so well to me. They will from now on be my primary dentist! I highly recommend this wonderful dental team!

Toni Ann Grun
17:49 05 Nov 20
Everyone are amazing and nice to me. I will definitely refer them to my friends and family! Lori help me so much for calling around and getting me into an appointment for my root canal. Friendly environment! ❤

rio stewart
17:20 04 Nov 20
Dr. Wood and his staff are very friendly and informative!

Michael Pauley
16:26 27 Oct 20
First time visit with Dr. Parker Wood and his practice, after my being a patient with Dr. Tomlinson for a few years. Everyone friendly, my procedure was carefully explained and carried out, and my questions were all answered to my satisfaction. Looking forward to my follow-up and future visits.

Lawrence Kahler
23:04 21 Oct 20
Competent, thorough, pleasant, considerate. Could ask for no more.

Juris Macs
16:17 23 Sep 20
Great staff. Erika is amazing. So sweet and she keeps you informed of everything that is going on while cleaning. My family has been going there since 2014. They have always been great. Dr. Wood appears to be a good dentist a bit eager to promote extras. But in the end he always leaves the choice to the patient. My family will be forever patients.

Billie Reese
23:13 15 Sep 20
Dr. Wood and his staff were excellent!! What a positive environment while dealing with my dental emergency! From the moment I called with a broken tooth needing immediate care I was treated like family! I felt completely safe and assured that all would be well! From the warm friendly front office staff through the very capable dental assistant and Dr. Wood himself each one of you are to be. Commended!!! Thank you so very much! I will definitely be recommending you to everyone I know😊 Absolutely the best dental experience I have ever had!

Cathy Brown
03:01 01 Sep 20
Clean, friendly, knowledgeable and professional. My whole family and I go here. Highly recommend!

Rene' Bartosh
18:12 10 Aug 20
Amazing staff. Really friendly, professional and personable.

The best experience. I came in with pain and left happy. Dr. Woods walked me through every step. I highly recommend this place if you have anxiety with going to the dentist!!!!

Veronica De Alba Cruz
07:27 27 Feb 20
I went into the office as a first time patient. I was able to get an appointment immediately and helped find the best solution for me. They were friendly, gentle and supportive. I will only go there from now on!

Kim Mothershead
01:42 23 Jan 20
Provided him with a difficult extraction but he did it very well. No pain, comfortable office all the works. Wonderful staff as well!

The "Cheers' of dentistry, where they always know your name.... and family.... and oral health needs. Dr Tomlinson's office succeeds in making everyone feel like they are part of their family. They are incredibly professional and caring. A real asset to the community! They provide services that rival anything you can get elsewhere, including larger metro areas. Happy Holidays to everyone and thank you for always being there for my families dental needs!

Christi Boora
18:35 18 Dec 16
Dr. Tomlinson has been our family dentist for 30 plus years. In that time, he has done extensive work for me including an implant, root canals, crowns and numerous fillings. His work has always been professionally and beautifully done. Several times, he has referred me to specialists in Olympia for difficult root canals or as in the case of the implant, additional surgery required. He is meticulous in his endeavors and most gracious in dealing with me as a patient. He always responds well to my inquisitive nature and answers questions in detail as requested.Moreover, he is without a doubt, the best dentist I have ever had for administering a numbing injection. I swear this man has mastered the technique for painless injection by slightly stimulating surrounding tissue that negates injection pain. Even the specialists in Olympia could not recently match his injection skills.I am always impressed that he is up on the latest technology and invests considerable money in more school for himself, new techniques of practice , and new machines or instruments. He has a new machine/computer that takes a three dimensional view of a tooth to be crowned and photographs an exact fit which is then produced by a lab Dr. Tomlinson employs.His assistants are thoroughly competent and work well together in providing the best possible hygienic care. They like their patients and it is apparent that they like and respect each other as well. They depend upon each other with choosing color matches for crown replacements to surrounding teeth color or for second opinions when wished. There is a most cordial and respectful manner from the front desk throughout the facility. I recommend Dr. Tomlinson without reservation of any kind. He is a most kind, considerate and professional dentist.

William Carter
01:20 05 Sep 16
Love this office. Have been going here for over 25 years. The staff is friendly, kind and know their stuff!

shannon bunnell
18:00 31 Aug 16
SIMPLE. EFFECTIVE. EFFICIENT.
Dental crowns offering function and beauty.
This common restorative dental treatment is the "royalty" of dental care. Here are a few of the benefits this reliable service can bring.
Regain your natural smile with our discreet dental crowns.